Ecuador is a small country that feels immense because it has so many places to explore. In a 25 minute flight from Quito you can be on the coast or in the rainforest!  Just amazing!
Tom and I are continually discovering awesome new places in our neck of the woods. Less than an hour from Crucita is a tiny inland town near Portoviejo called Picoaza. The town sits at the base of a newly created 9,000 acre reserve that boasts five peaks that reach around 2,000 feet above sea level. The reserve offers hiking trails that begin in dry forests that transform into rainforest as you gain in elevation. Tom was particularly excited to hear about exposed volcanic rock that are supposedly good for climbing. The next time we return, no doubt Tom will have ropes, harness and climbing gear in tow.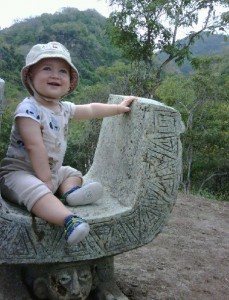 While learning about the flora and fauna from our local guide was great, what really impressed me was human history of the area. Cerro Jaboncillo was the site of an enormous pre-Incan settlement, perhaps with as many as 50,000 inhabitants! The peak was a strategic location allowing view of the surrounding areas including the ocean, which was key for trade. Archaeological evidence indicates that they used balsa sailboats to trade as far north as southern California and as far south as Chile.
As of yet, only about 140 acres have been cleared and studied for archaeological clues to this impressive society that created large underground grain silos and irrigation canals in addition to stone temples and beautiful ceramic pottery. Once uncovered, the site could rival Machu Picchu in size.