The topic of the previous post was custom wicker furniture. Today, we'll take a look at another option for inexpensive handcrafted furniture that uses local materials and provides employment to local residents.
Moyuyo ("moe-you-yo") is a flowering shrub that grows along the Ecuador coast.  Its woody stems are very sturdy and make for a unique medium for creating rustic furniture and artistic balcony designs.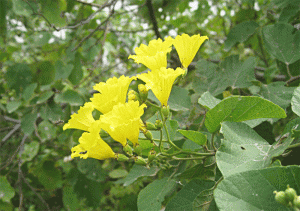 We recently hired Miguel Castro, a local moyuyo artisan in Crucita, to make some bar stools and a dining set for a condo unit here in town. Miguel made Tom's and my furniture and balcony design back in 2008 and as you can see from the photos below that I took today they have held up wonderfully.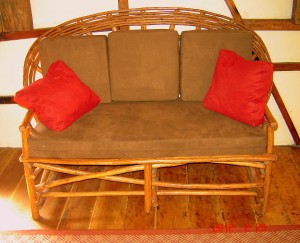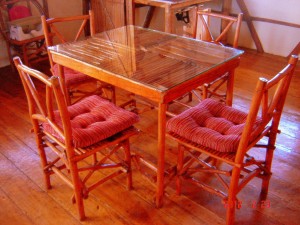 We located Miguel and his assistant hard at work, transforming piles of moyuyo stems into aesthetic pieces for furniture.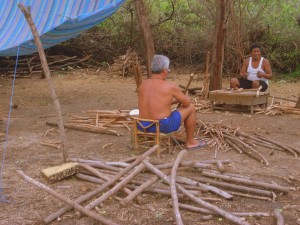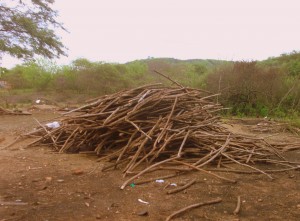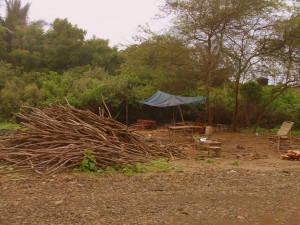 Similar to those operating wicker workshops in Montecristi, Miguel has a couple of photo albums showing different pieces he's made to provide ideas but says he can create just about anything so long as he has an image to work from. In one of these albums we saw a beautiful table and barstools and decided to go with those in addition to six dining chairs with armrests. The dining chairs were based off of an image my friend provided.
We returned to Miguel's the following week to look through the wood he had purchased for the tabletop and barstools.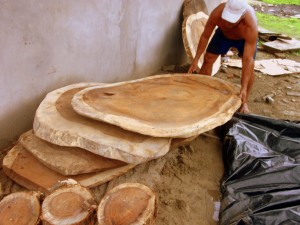 Another week later, the furniture was delivered to the beachfront condo unit.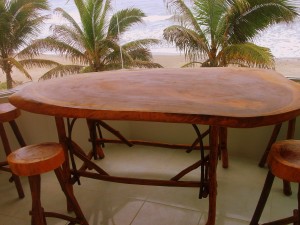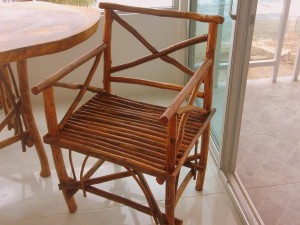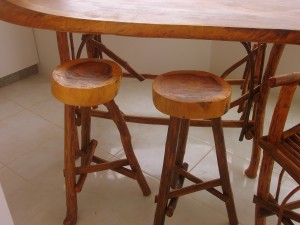 Moyuyo furniture is a very affordable option for furnishing your beachfront home while directly supporting the local community. Because they hold up well against the sun and salt air, requiring only a new coat of polyeurethane every year or so for outdoor use, we think they would be a good choice for enjoying your rooftop terrace at Casitas del Sol! We can help you arrange a furniture package and offer discounts to our clients.