As you make your travel plans to Ecuador, it's important to be aware of current laws regarding what is allowed to be brought in duty-free to avoid paying hefty import taxes.
Below is a synopsis of duty-free items that can be brought in through airport customs. More information is available on Ecuador's Customs website page for international airport travelers.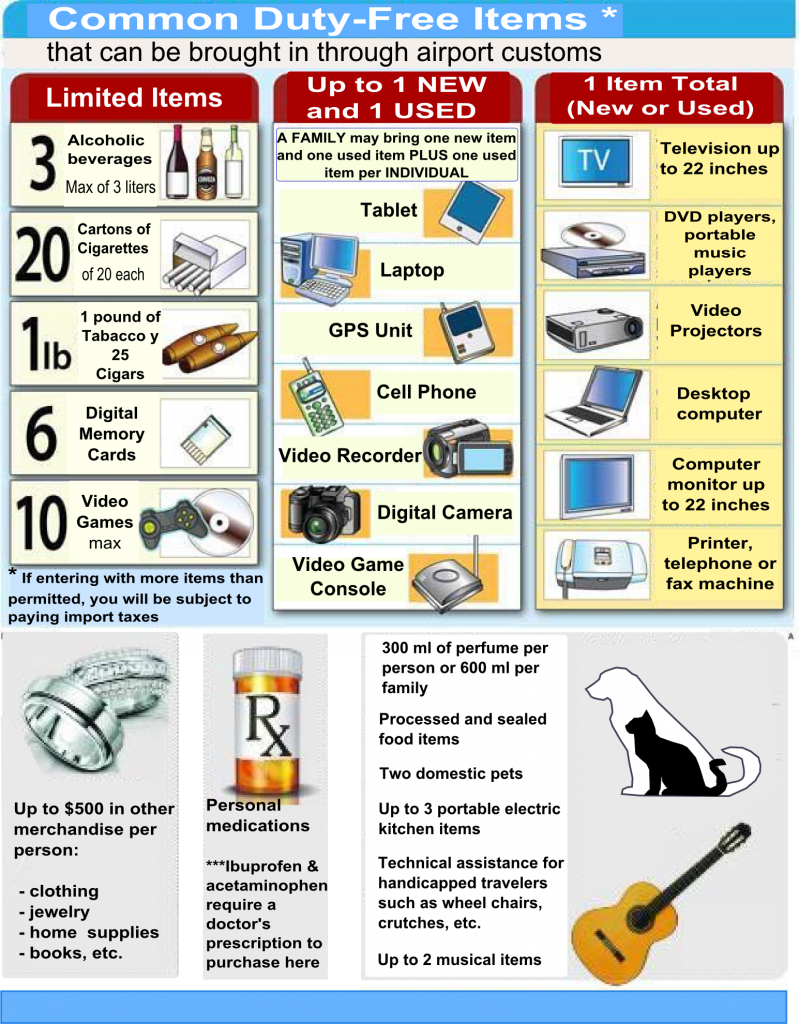 Summary of tax-free items that can brought into Ecuador, some with restrictions
If you bring in merchandise that is not considered to be a personal item and its commercial value is greater than $500, you will be required to pay import taxes at Customs in the airport.  The amount due is calculated based on the commercial value of the good plus the cost of freight (equivalent to  $ 1.50 per kilogram) plus the insurance value (calculated as 1% of the commercial value).
We recently learned about paying import taxes at the airport firsthand when Tom brought in a drone he had purchased in the US so we could capture aerial footage of Ecuador's coast, properties and construction projects.
Airport customs officials determined that the drone was valued at over $5o0 and would not consider it to be a personal item despite Tom's initial attempts at friendly persuasion. They asked Tom if he possessed a certified letter demonstrating that he was a professional who required use of a drone. He didn't so they proceeded to move him over to an adjacent office to calculate the import tax due. They looked up the retail value of the drone from the internet. Their value nearly coincided with what he actually paid.
Here's the breakdown of what was charged: the base import tariff ("arancel advalorem") was determined to be $573.80. Plus, there were two separate taxes charged: The first tax was $14.35 to FONDINFA, a fund supporting infant development. The second tax was the IVA (Ecuador's standard value-added tax) which came to $414.86. The grand total due was $1,003 or a whopping 35% of the retail value (ouch!). They gladly accept cash or credit cards.
Some insights gleaned from the experience: In this case, the value estimated by customs was pretty close to what we actually paid, but to be safe, it would be wise to bring in your own receipts to avoid being overcharged. Tom could have tried to fight their conclusion that the the drone was not for personal use and he could have filed an official complaint to try to avoid paying the tax. However, this would have required him to leave the drone in the Customs official's care until the case was resolved. Never, ever a good idea! So, take your chances! In retrospect, Tom could have bought the same model here in  Ecuador for about $600 more than what he paid in the US. However, he was banking on the drone being considered a personal item in a similar manner that high-end digital cameras would be considered personal regardless of their cost.