Trucks regularly rumble through town, laden with giant green bananas. Usually there are a couple of guys perched at the very top of the heap calling out, "Verde, Verde!"
For a dollar you get about 10 or more of these green plantains or plátanos verdes. While  I quickly got used to seeing plantains for sale everywhere,  it took me a while to appreciate the extent to which they are a part of the local diet and even longer to learn how to cook with them myself.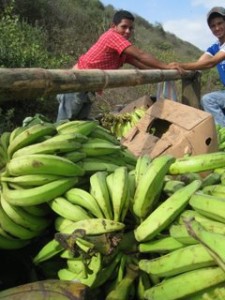 Plantains are eaten more like a potato than their sweet counterpart, the banana. They are hard, starchy and require cooking before being eaten. When ripe, they yellow, become slightly sweet and are called maduros ("matures").
Typical coastal Ecuadorian foods using plantain include empanadas, corviche, bolones de verde, bolones de maduro con queso, patacones, chifles, maduros con queso, maduros asados con sal prieta, torta de plátano, gato encerrado, and the list goes on and on.
Today, I'll showcase the simple process of making empanadas de verde using photos I snapped while learning how to make them from some friends the other day.
Step 1: Boil green plantains in salted water for 30 min until soft
Step 2: Mash and roll out the plantain "dough"
Step 3: Cut out a circle and add your filling 
Step 4: Fold your circle in half and crimp the edges with a fork
Step 5: Fry 'em up
Step 6: Enjoy with some fresh ají (pronounced "Ah-HEE", a hot sauce usually made with pickled veggies) and a cup of coffee.