A popular source of local jewelry and touristy trinkets is "tagua" (pronounced "TAWG-wuh") or "vegetable ivory." Tagua is a very hard, white nut that grows on six species of palm trees in South America, one species of which is found along Ecuador's coast.
Tagua is referred to as vegetable ivory because once dried, it can be carved and closely resembles the ivory from an elephant's tusks.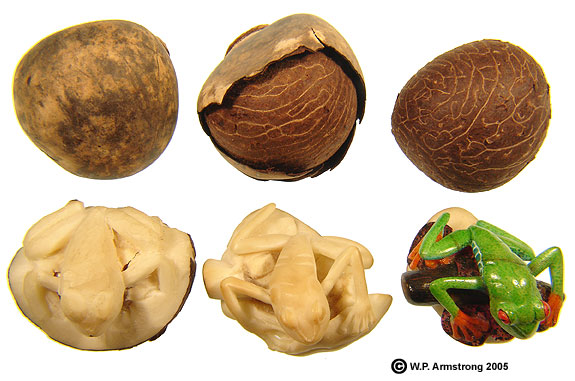 Sequence showing how the tagua nut can be carved and dyed into intricate pieces of art. Image taken from an interesting online article about how the production of tagua helps protect elephants and South American rainforests.
Because of its close similarities to ivory, tagua is now often used as a substitute for ivory in the global market, which not only protects elephants from being killed for their valuable tusks, but also provides many jobs as well as an economic incentive to protect the forests where the palms are found.
Items made from tagua can be purchased in markets across Ecuador but the source of this unique artisanry is here along the Central Coast, especially in the small village of Sosote ("so-SO-teh"), outside of Portoviejo.
The art of carving tagua was brought to Sosote in 1993 by two local cousins who had spent several years in the Province of Guayas creating tagua pieces for an Italian man who exported them to Europe. Today, there are over 60 tagua workshops  in the Sosote area.
Below are photos showing the process of transforming the tagua nut into jewelry, which in Sosote usually takes place in a single location; i.e. the workshops are typically located behind the storefront that sells the finished products.
Tagua art and jewelry-making is an excellent example of how the purchase of local, sustainable products not only supports the creation of jobs but can also make important contributions to society and the environment. Ecuador is full of untapped niches such as these, many that are yet to be discovered.