Birthing has been on our minds of late as we are expecting a second baby boy at the end of August. Our son, Kai, will be turning three in August and was born in Cumbaya, just outside of Quito. We plan to have our second child at the same location.
When we discovered I was pregnant with Kai, I started investigating our birthing options. We felt strongly about him being born in Ecuador so that he would have dual citizenship. We also preferred that, if possible, he be born in a more relaxed and natural setting than most traditional hospitals afford. I discovered that Ecuador has an active La Leche League (LLL) operating out of both Quito and Guayaquil and one of the LLL leaders directed me to several natural birthing centers in Quito. We visited each and interviewed the doctors and decided to go with Clinica La Primavera.
La Primavera focuses on providing a gentle, "humanized" birth. In other words, they allow the woman to walk around free and choose her own position(s) during labor (including birthing in water, which is how Kai was born). There is no pressure for drugs (unless requested), the doctor does not do routine episiotomies, they don't take baby away from the parents after birth, etc. And in the case of emergencies, they can do cesaereans and handle most other emergency procedures there at the clinic. If something really, really went awry there is a very reputable hospital less than 5 minutes away called Hospital de los Valles. It was just what we were looking for.  
And the price is $1500 for everything including all doctor's pre- and post-natal visits, the birth, a birth video, 2 days stay with food for me and Tom after the delivery, and 8 weeks of prenatal classes. It's funny–our maternity insurance deductible alone is $1500. 
Together, they have created a beautiful setting that feels more like a home than a clinic. The birthing rooms have a warm wood decor, stained glass windows, candles, music, fresh flowers, a round birthing tub, labor bed, etc. They offer a video of the birth set to music. They also provide a doula that stays with you during your labor for up to 48 hours so you don't have someone new every 6-8 hours. They have a studio with exercise balls to help with contractions. Across the street is a quiet park where they recommend couples walk during first stage labor.  Dr. Alarcon is also an artist and the clinic is full of his large, colorful paintings.
I never remember to take photos when I'm there so the following images of the clinic are from a very
nice and informative blog post
from someone who volunteered at La Primavera.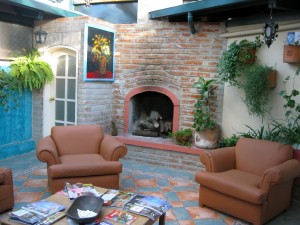 Waiting room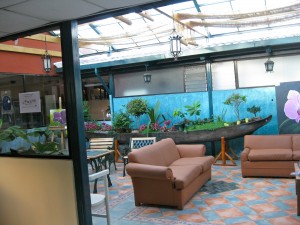 Waiting room
We had a wonderful birthing experience there and can't say enough good things about Dr. Alarcon and his staff.
Incidentally, if you are going to have a child in Ecuador and also plan to get your residency, then you have the option of obtaining your visa based on your Ecuadorian child. It's a much cheaper ($50!) and simpler visa option, as far as the paperwork is concerned. And, it turns out that it may be applied to two bloodlines, meaning that Tom's parents were able to obtain their residency visas through our son as well!