We receive a lot of communication from potential clients looking for ocean front real estate here in Ecuador. Apart from questions specific to our real estate listings and development projects, we are also frequently asked about the logistics of coming to visit.
To help prepare our clients for their visit to Ecuador's Central Coast, we have created a resource guide that is packed with need-to-know logistical information and insider tips.
Our guide answers in detail all the most common questions we receive such as:
How do we get there?
What do we do about money once we're in there?
Should we bring our own cell phone to call home?
In addition, this guide provides overviews of the most popular real estate stops along Ecuador's Central Coast including: Manta, Crucita, San Jacinto/San Clemente, Bahia and Canoa. For each city, we fill you in on key logistical information such as getting around, availability of ATM machines, attractions, and safety precautions.
Our guide also provides a packing list as well as a summary of important actions you should take prior to leaving home.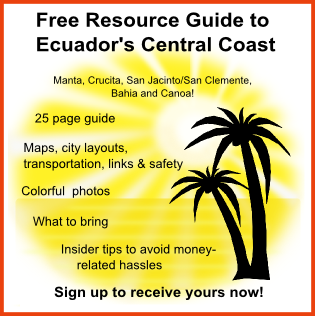 Within the next couple of days we will be sending this guide to everyone already on our mailing list and it is available to download right now for all new subscribers.
Happy travels!