I've been helping clients to find and purchase furniture and appliances packages over the last few months and thought I'd share some information on what I've found. Today, I'll begin the furniture part of the story.
Furniture stores here at first sight are a rather bleak experience. For starters, furniture is generally expensive for what you get by US standards. And, for the most part, mid-range priced furniture tends to be big, dark, and overly ornate — not qualities appropriate for sunny, lighthearted beachfront living. And finally, most sofa sets and armchairs, with their very upright backs and stiff cushions are far from comfy.

So what's a person to do? Yes, in theory you can ship a container with your la-Z-boy from home but for most expats this is more trouble than it's worth. Another option is to have your furniture custom made. Beautiful bamboo, rattan, and wicker pieces can be made to order for far less than store-bought furniture and for far, far less than what you'd pay back home.
For wicker, the town of Montecristi, home to some of the finest "Panama hats" in the country, is the place to go. Here, streets are lined with untidy wicker workshops where you can observe the raw "mimbre" become transformed into beautiful furniture pieces.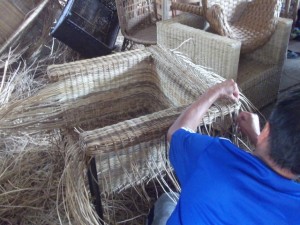 Here, almost every piece of wicker furniture is made to order. There are no furniture "showrooms" for you to select your pieces, pay, and head home with furniture on-hand.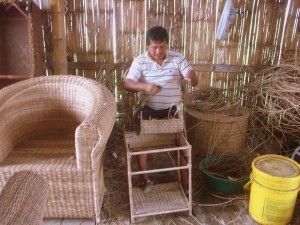 You will see a smattering of completed pieces but most often these are awaiting to be picked up or delivered.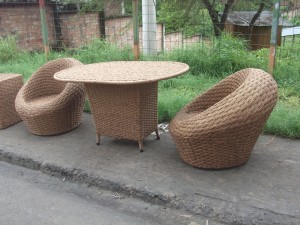 Each shop has multiple catalogs on hand that display all varieties of wicker furniture. The owners all claim that they can make just about anything so long as you provide an image for them. And from my experiences thus far, this does indeed seem the case.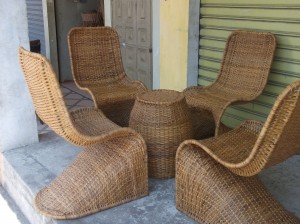 After you've begun to peruse the catalogs, the owner of the shop will sit down with you and help you put together your furniture package.  Once you've settled on what you want, then you begin the bargaining process to settle on a price that makes everybody happy. Usually, they request a 50% down payment; the other half gets paid once the pieces are finished and you've inspected them.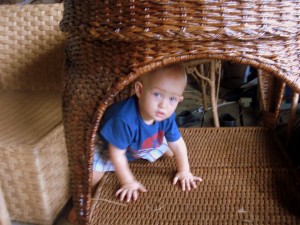 Kai enjoys the wicker playland
Across the street from where we have been making furniture purchases is another equally unkempt workshop that specializes in custom cushions.  Here, you look through fabric samples, pick out the kind of cushion material and its design and then repeat the bargaining process. The proximity of the upholstery shop to the wicker shop ensures that the cushions and pillows will be made to fit perfectly with your furniture.
Below is an example of  a set of furniture that we had delivered to Crucita justa few days ago. This order took approximately 4 weeks from ordering to delivery.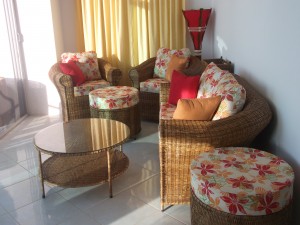 For clients of our new development projects such as Casitas del Sol in Crucita, we are offering discounted furniture and appliance packages. Stay tuned as I continue to post more on other custom furniture options as well as appliances.